Want a new car but aren't quite ready to make a full purchase? Don't worry, we have you completely covered. Riley Toyota's excellent lease program offers a lot of benefits at incredibly low rates. Our experienced staff will get you in a car and on the road in no time, with a lease plan to cater to your every need and requirement. If you're still hesitant about leasing a car, allow us to give you the full lease program rundown as well as the leasing benefits you'll gain in the process.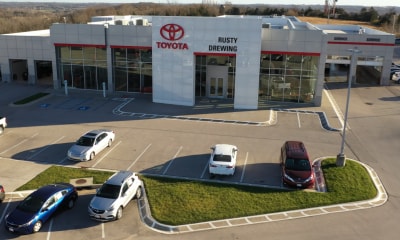 Lease Details
Far and away the biggest pro associated with leasing is the fact that you'll be driving a brand-new car every few years. Just think about it. You're not just avoiding the trouble of selling/trading your old car, but getting a brand new one every couple of years. The fact that cars advance so rapidly means you'll be getting a lot more of your money's worth with each new generation of automobile.
Then there's the small matter that you'll be paying lower monthly payments than you would be if you were purchasing the same car.
Leasing is, in a way, the best of all worlds. You get to have the car you want with a more affordable monthly payment than financing. You can even decide to pay less cash up front and still beat financing payments. At the end of your lease, you can turn the car in and drive out with a brand new one on the very same day. It's a win-win situation.
Naturally, Rusty Drewing Toyota offers lease terms to suit everyone's needs, from 24 months all the way to 60.


Lease Pros
When signing a lease contract, you'll be paying a lot less than you would have been had you been signing a financing contract. You'll also have the option to purchase the car you've been driving since brand-new (both during the lease and when the lease ends). Depending on your state and/or firm, you may be entitled to various tax benefits. If you lease the car for a business, check with your tax advisor about any potential tax benefits.


Lease vs. Finance
When you're leasing a vehicle, you'll pay a lot less tax on the car. Instead of paying tax on the full purchase price, you're only paying for a certain portion of it. There's also the greater liquidity associated with it. Because you're spending less money on your monthly payment (as opposed to financing), you have more money in your pocket which you can spend elsewhere.


Toyota Lease Returns
Leases are adaptable and versatile, with contracts as short as 24 months. Compare this to a 60-month financing plan, and you realize why leasing is so popular. You're not obligated to stick with the same car for as long. A new Toyota model just came out and you really like it? By all means, trade your current car once the lease period ends and drive away with the new model. It's that simple and easy.
At the end of your lease, you can choose to lease a vehicle again. We'll be able to waive the disposition fee if you lease a new or certified used Toyota at the end of your current lease.
Another option is to purchase your leased vehicle at the end of the lease period. You'll be able to maintain a low monthly payment and you'll end up paying a lower price now that the car is used.


Additional Coverage
With our amazing ToyotaCare program you're covered for a lot of the maintenance during the majority of the lease. When you factor in the lower maintenance cost during the contract period, you realize you're actually ahead with leasing. Any fee will be waived on the already existing lease for qualifying customers who return to lease or finance their next vehicle, provided it's eligible.
Indirectly, you'll also be raising your credit score, i.e. improving bad credit. Leasing makes your debt to income ratio a lot better as opposed to, say, purchasing the car directly. Because you're paying a monthly fee, you're slowly building up credit, something not possible with a direct purchase. This is especially important for people with no or bad credit, as it can set you up for lots of other things in life, not just subsequent car purchase/leasing.
Although no one likes to think of the worst, you have to consider the risk of crashing/damaging the vehicle during the lease period. Normally, if it was your own car, you'd be pretty much done for in terms of trade-in value. The CarFax records will show that your car has been in an accident, dropping your car's value right down next to worthless. Now, with leasing, you never have to worry about that, because when you turn it in you can walk out with a brand-new car. You're not the one taking the hit, and that's something you have to consider given how much 'damaged' cars can depreciate in value rather quickly.
For any further inquiries don't hesitate to contact Rusty Drewing Toyota via phone or email. Alternatively, drop by and discuss things over with our experienced staff that is more than happy to assist you. Browse through our large new and used vehicle inventory, and if you need a car for a day or two, feel free to check out our rental section on the website. We offer everything from the compact Corolla right up to the Highlander.